X-rings
X-rings have been developed mainly in order to eliminate twisting of rings in the groove. A square cross-section with ring grooves forms the base. A wide range of elastomer materials for common and special applications allows sealing up practically all liquids and gases.
The width and thickness of these rings correspond to the dimensions of conventional O-rings.

Both ring types are interchangeable.

The advantage of the X-rings is a small contact surface and much lower friction at operating pressures of up to 40 bar. The X-ring cannot roll, thus it cannot twist. It is more suitable for rotary and spiral movements than the standard X-ring in cases, when shaft seals cannot be applied.
The service life of the X-rings depends on the quality of the friction areas.


d-inner diameter (mm)
h-height (mm)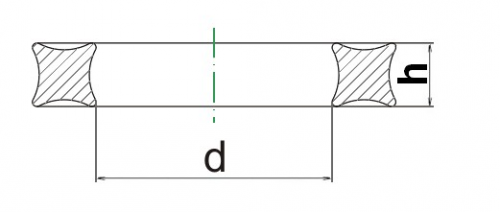 ---
Hydraulic and pneumatic systems
Počet přístupů: [737476] ©2001-2020 Dimer, spol. s r. o.