O-rings
O-rings are circular sealing elements with high precision, which, when squeezed, seal up the pressure in both the radial and axial directions. In a pressure-loaded system, it forms the resulting sealing force. The total sealing pressure grows with rising operating pressures.

O-rings offer a very effective and economically advantageous sealing element for a wide range of static or dynamic applications.
O-rings are vulcanized in forms and for their symmetric shape they can be used as a simple and double sealing element.

A wide range of elastomeric materials for ordinary and special applications allows sealing of nearly all liquids and gases.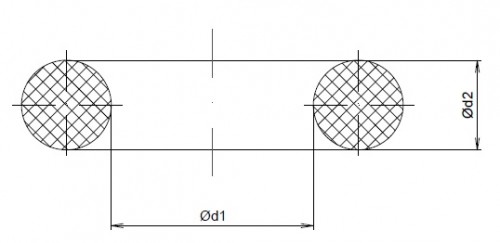 d1-inner diameter (mm)
d2-thickness of the O-ring (mm)


The range of dimensions of the O-ringsis defined by the inner diameter and the thickness of the ring. The sizes, materials, hardness and installation spaces are acc. to the DIN 3770 standard, in acc. to with ISO 3601.

The advantage of the application is simple installation, fast stock availability and especially a good price.

Example of marking
OK-NBR-70-35-3

OK-type
NBR-material
70-hardess (Sh)
35-inner diameter d1 (mm)
3-thickess (mm)

Special sizes and/or styles are available on request.

---