Manhole gaskets and flexible lip seals
Sealing textile-rubber lip seals are produced from rubber-coated layered fabrics (NBR, CR, other rubber types on request). The seals are used for sealing up linear motion; some types can also be used for slow rotary motions.

The production range of textile-rubber lip seals is wide in shapes and dimensions and for customer applications we can design and produce the desired shape.
A list of dimensions can be supplied on request.




Standard profiles shapes of Flexible lip seals
C ring
temperature up to 120°C / pressure up to 200 bar
dish ring
temperature up to 120°C / pressure up to 100 bar
U ring
temperature up to 120°C / pressure up to 400 bar
Y ring
temperature up to 120°C / pressure up to 600 bar
single lip ring
temperature up to 120°C / pressure up to 600 bar
chevron set rings
temperature up to 120°C / pressure up to 500 bar
Manhole gaskets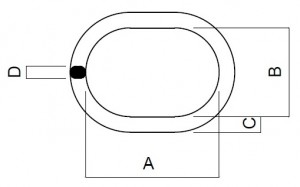 Textile-rubber manhole gaskets are produced from layered fabrics and processed to the required shape (circle, oval, ellipse). They are designed for sealing up manholes in boilers, kettles, furnaces, etc.
A list of dimensions can be supplied on request.

Max. operating temperature: up to 500 °C
Max. operating pressure: up to 30 bar


A-inner size (length)
B-inner size (width)
C-width
D-height
---