DIMERSIL 30 / DIMERSIL 30R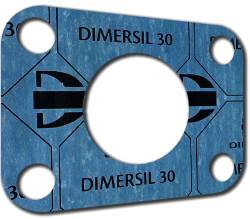 high-quality sealing sheet consisting of a mixture of special aramid fibers with a very good resistance to higher temperatures and an NBR rubber binder of higher quality.
The material is particularly suitable for sealing up of steam applications at higher temperatures with an excellent coefficient of gas leakage.

Thanks to the composition of the high-quality raw materials and an excellent value of gas leakage (fulfilling European standards) this sheet is designed for petrochemicals technology, chemical, gas and food industries.

This sheet is especially suitable to seal up gas, oils, fuels, lubricants, alcohol, hydrocarbons, coolants as well as a great number of diluted acids and hydroxides.

The DIMERSIL 30R sheet is reinforced with a wire mesh. This variant is resistant to higher operating pressures by up to 40% depending on the operating / working conditions.

Technical data
Marking acc. to DIN 28 091-2
FA-MA-1-O (St)
Marking acc. to ASTM F104
F712 111 M6 (M7)
Certification
Germanischer Lloyd, BAM, DVGW
Max. temperature* (°C)
450 (peak) / 350 (continual) / 250 (steam)
Max. pressure* (bar)
120 / for option DIMERSIL 30R is valid 140
Sheet size (m)
1,5x1,5 (1,5x3,0)
Thickness (mm)
from 0,4 to 5,0
*max. temperature and pressure values can not be used simultaneously
Files to download
DML0035-DIMERSIL 30
---